2 20x10.00-8 4P PAIR OTR FieldMaster Lug AG Tires 20x10-8 20x10.0-8 Free Ship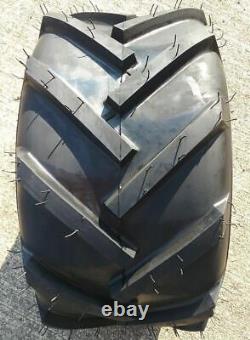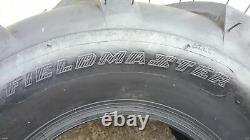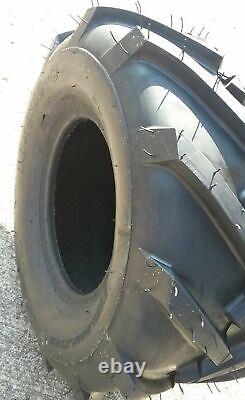 The OTR Fieldmaster tire is a premium R-1 tire designed by OTR for small equipment. Original equipment on Jacobsen, Kubota, Moridge(Grasshopper), SGC(Schiller) equipment. The tire features and benefits: Herringbone tread design provides good traction in soft soil conditions. Tire lugs bite effectively into soft or loose soil to provide excellent footing and grip. Directional tread style with lugs designed for excellent self-cleaning properties in sticky soil and mud falls away cleanly. Tread lugs are also designed to be less aggressive on turf.
Rim Guard is designed with heavy side walls. Protects the rim flange and protects from side wall penetration. We have over 30 years experience and several warehouses full of tires. Check out our other auctions for more Tire Deals! Or Ply Ratings on tires are now used in comparison for what used to be termed as plies.
If a tire carries an ST in front of the size, such as an ST235/80R16 these tires may only be used on a trailer, and not on a vehicle. When our tires are un-banded, the radial tires will regain their form immediately, but bias tires such as the Light truck, ATV and mower tires will only take shape when they are inflated on the rim. They may need to be stretched with a tube, spread with a few boards between the beads or sat in a warm area before mounting. With our volume it is impossible for us to take actual pictures of each tire being listed. Our pictures are to be used as a reference to the tread design and not the actual photo of the tire.
Any rims pictured are Not included and only pictured to feature the tire.