4 New Haida HD868 M/T LT35X12.50R20 121Q Tire BSW LRE 35-12.50R20 35125020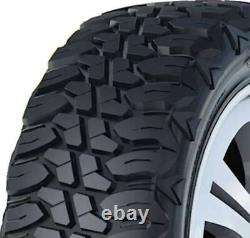 The Haida Mud Champ HD869 is a mud terrain, all season tire manufactured for light trucks. The stabilized tread design ensures the tires surface contact at all times. In this manner, the tire is able to upgrade the steering responsiveness and driving stability throughout the performance. Better road contact helps to increase the response time and accuracy to the drivers instructions steering. It secures the structure against the driving pressure as well.
The combination of these improvements guarantees the drivers better control over the vehicle throughout the drive. Staggered blocks and a high void ratio work together to upgrade the mud-terrain grip. These tread elements optimize the tires consistent surface contact, enhancing the soft, loose, and uneven terrain traction.
They provide the traction needed to ensure the tires forward motion on various terrains. This allows the tire to conquer all off-road terrains with ease. Additionally, this footprint also keeps the footprint clean.
Mud and snow are dispersed, preventing them from blocking the surface contact. The self-cleaning nature also avoids stone retention, as rocks are ejected from the footprint. The Mud Champ HD869 maintains the ideal tire shape under pressure.
This is achieved with a stronger structure, which does not allow the tire to deform under the load and driving pressure. As a result, the tire upgrades the load-carrying ability, enabling the tires heavier load application. This also optimizes the driving durability, increasing the performing security.
The intended purpose of Mud Terrain tire types is off-road use. They are not designed for regular highway driving.
Fitment: Please verify fitment prior to purchasing. We are a hometown-grown automotive enthusiasts that provide top notch customer service with STOCKED inventory on-hand. Ever wonder what all those letters and number mean on the side of a tire? Then you are at the right place! We have the knowledge to answerer all of your tire questions.
Tires come with all kinds of different rubber compounds, and constructions for a variety of different applications. During your visit with us if you find yourself wondering which brand or style tire is best for you. We are more than happy to help you choose!
Our team has a collective 50+ years of experience in helping customers with their wheel, tire, and aftermarket accessory needs. Our team members have been responsible for operating and purchasing for some of the largest, and most well known aftermarket parts warehouses and retail tire stores in the United States.
Our team is full of true car enthusiasts with a passion for helping customers. We love what we sell.
We enjoy the outdoors and taking our cars to the track or our 4X4 trucks out in the woods. We pull our toy-haulers filled with UTV/Side By Sides and 4-wheelers on weekend get-a-ways. Please verify fitment prior to purchasing. Please let us know if you have any questions.
Items must be unused, in the same condition received, and in the original packaging (for example, original stickers on tires). Wheels must be test fitted before having tires mounted.
If you don't verify the fitment with us, then you assume full responsibility for the fitment. 4 New 225/70R19.5 RoadOne D955 Drive Tires LRG 128M 22570195 225 70 19.5. 6 New 225/70R19.5 RoadOne D955 Drive Tires LRG 128M 22570195 225 70 19.5. 1 New Haida HD868 M/T LT35X12.50R20 121Q Tire BSW LRE 35-12.50R20 35125020. 2 New Haida HD868 M/T LT35X12.50R20 121Q Tire BSW LRE 35-12.50R20 35125020.
This listing is currently undergoing maintenance, we apologise for any inconvenience caused.